Here's some tasty Costeño food you need to try in Barranquilla. 
If you are visiting Barranquilla, these are the foods you can't miss during your visit to this beautiful city in the Colombian Caribbean.
Sancochos
This is a typical dish of the region, which in short is soup. In Barranquilla they are prepared especially with beef ribs, chicken, mondongo (beef leg + beef stomach), and with guandú (pigeon peas) with salted meat and fish. They're usually accompanied with white rice (in some cases cucayo or pega), avocado, ripe banana and seasoned with lemon and spices.
Among the variations of sancocho is mote de queso, which is prepared with ñame and cheese cut into cubes.
In recent years the consumption of this typical dish has increased, especially in places that are commonly called Totumazos that get their name from the bowls they use to serve the sancocho. The bowls come from the fruit of the Totumo tree (Calabazo). 
Cayeye, Cat's head, Guineo mote or Patacon 
With green banana or plantain, you can prepare different dishes that you simply cannot miss trying. Cayeye is cooked green plantain, that is pureed with butter. Cabeza de Gato is similar to the previous one, but instead of plantain, green guineo is used.
Patacones are prepared from plantain and guineo (bananas), which are fried and generally, like the cayeye and Cabeza de Gato are accompanied with different products, ranging from cheese to fried fish or simply an "ahogado".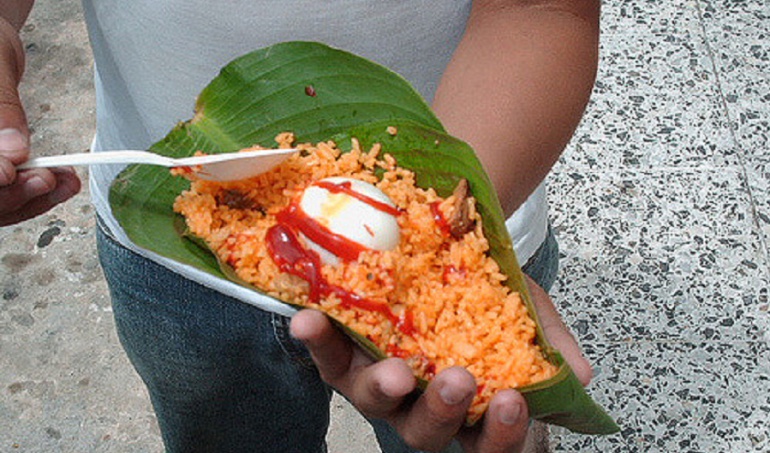 Clown rice "Arroz de Payaso"
This is a product that is commercialized in different sectors, but usually where there is a large number of people (especially in the center of the city). It is a rice that is prepared with different proteins and may contain chicken, pork, Lisa (fish), or a mixture of pork, chicken, and meat (three-phase), usually served in a bijao leaf and can be added at the request of the customer cooked yucca, patacón, cheese, cooked potato, boiled egg, chorizo, sausage, butifarra (sausage), lentils and even spaghetti. It is also served with fruit juice or corn or rice chicha.
This product is commercialized in restaurants (as pork, chicken, mullet, or three-phase rice), but "Arroz de Payaso" is generally called rice that is commercialized in the streets by street vendors.
Butifarra
Butifarra is a very traditional and tasty Costeño food which is traditionally prepared with marinated pork and ground beef. The meat is then packed into round sausages that are strung together like pearls and sold on street corners across the coast. The common denominator of this product is its delicious spice mix together with lemon, bollo limpio, and a cassava bun.
This product is originally from the municipality of Soledad, where it is still produced in an artisanal way. The most popular Butifarra producer is Butifarras Monsa. 
Bollos
These are products made from corn (yellow and white), which is cooked and then ground, obtaining a dough which is used as the base for the bollos. Additionally, yucca and plantain are used to create a different type of product that is just as delicious. 
From the corn dough, which is wrapped in Tusa (the shell that wraps the corn), they make bollo limpio, bollo de angelito, and bollo de mazorca.
With the yucca dough, they make yucca bollos, and with the plantain dough, they make plantain bollos.
These products are usually eaten with whey and cheese, but they are also used to accompany other dishes… 
Looking for more tasty Costeño food?  Check out the Festival de Pasteles!